---
Animate your virtual or hybrid events
and engage your audience with our web app solution
---
A 100% web-based solution integrating videoconferencing, interactive features, and our usual ecosystem of services:
live the Comet experience as if you were there!💻⚡
---
COMET HYBRID MEETINGS FORMULA
= WEB APP SOLUTION + COMET SERVICES INCLUDED
= Tailor-made price according to the number of participants
---
WEB APP SOLUTION
I. BEFORE ⚙️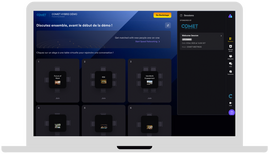 Before your event, create your session quickly and easily:⚙️ Personalize your session
Configuration and customization of the platform according to your specifications by our tech expert.⚙️ Perform repetition and coordination with our tech expert.⚙️ Add and plan the interactions that will boost your event
More than 15 modules (quiz, questionnaire, survey, word cloud, brainstorming, interactive voting, prioritization, ...)
II. DURING 🎤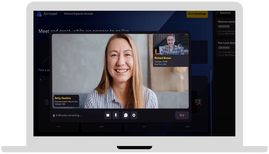 During the event, the facilitator manages the course of the session: launching activities, highlighting certain exchanges, ...🎤 Your participants are welcomed in the Social Lounge where they will be able to talk in small groups around virtual tables (mini-conferences) or face to face in Speed Networking before the start of your event.🎤 Your stakeholders can meet in the Backstage section, behind the scenes, for final adjustments before the event begins.🎤 When the event begins, your attendees are automatically redirected to the virtual conference room.🎤 Have a panel of interactive features to involve your participants: group and private chat, creation of remote sub-committee groups, emoji reactions, "raise your hand" to take the stage, etc...🎤 Record and / or broadcast the event live on Youtube or Facebook
III. AFTER 📊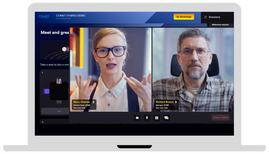 After the event:📊Analyze the engagement of your audience throughout the session and export all the statistics in an Excel or PDF format.
---
COMET SERVICES INCLUDED
TECHNICAL
SUPPORT

👥 Before the event: discussion with our expert (1 hour) to get grips on the tool and advice adapted to the objective of your meeting.👥 On the day of the event: assistance from our team of technical experts to relieve you of any technical constraints.
ACCOMPANYING
WELLNESS

🙌 A 15min Wellness session integrated into your package, adapted to your meeting objectives and hosted live by our team of Wellness Officers at the time of day of your choosing.3 TYPES OF SESSIONS:
- ⏰ Fresh Start to get the day off to a good start, get the participants in shape and mark the transition from personal space to professional space.
- ⚡Revitalize to raise awareness, boost participatory energy and stay connected over time.
- 🙏 Relax to end the day smoothly and create a real moment of transition between work and the evening.Since working from home and quarantine can increase the health and posture risks associated with a sedentary lifestyle and challenge our ability to concentrate, our Wellness coaching uses simple techniques that mobilize the body and mind to boost attention and collective intelligence. Take advantage of intelligent breathing during your remote meeting to boost energy and motivation: a moment of collective sharing to forget the distance, reconnect with the group, and regain postural comfort against the feeling of being locked up.
SUPPORT FOR
SUCCESS

🎯 Assist the meeting decision-maker/project manager in structuring the content:
- Identify the needs of the meeting meeting (context, objectives and issues, desired deliverables, and group dynamics),
- Help to build the day using our expertise in organizing thousands of strategic meetings
- Directing you to the coaches who will make the difference
---
OPTIONAL SERVICES
(additional custom pricing)
---
WANT TO KNOW MORE ABOUT OUR SOLUTION?
CONTACT US!
---
© Untitled. All rights reserved.